Main Hall – Beugin Hall – Dance Studio – Board Room
Dance Studio
The Dance Studio has a capacity of 50 people; it is 1323 sq. ft. and measures 49′ x 27′.
It is located on the upper level, accessed by stairs, and available only for certain dance-based programs, as well as yoga classes or Pilates.
Rental cost is $42.00/hour (GST included) for a 2 hour minimum rental.  A $400 damage deposit is also required.  Non-refundable deposits of $50 will be collected for rentals that are more than 3 months in advance.  Picture ID must be shown.
Payment by credit card or e-transfer is accepted.
There is no outside footwear, food or beverages allowed in the studio.
Please note that the Rosedale Community Association is volunteer-run (no staffed office); to view the hall or to sign a rental contract, a specific day and time must be arranged in advance with the Rental Co-ordinator.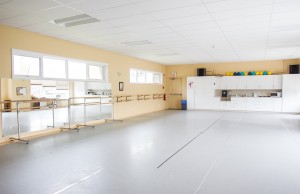 Interested in booking? Please verify availability in the calendar below, and proceed to the Booking Information Request form.
____________________
VIDEO SURVEILLANCE
The Calgary Rosedale Community Association (RCA) has installed video surveillance as one means to protect our users, renters, community residents, facilities and equipment.
This equipment is to be used for security purposes. It may be monitored during any rental/usage to observe first time renters, large events, reported suspicious activity and to verify the arrival/departure time of renters. It may be used following any rental/usage to verify compliance to any guidelines or rules.
____________________